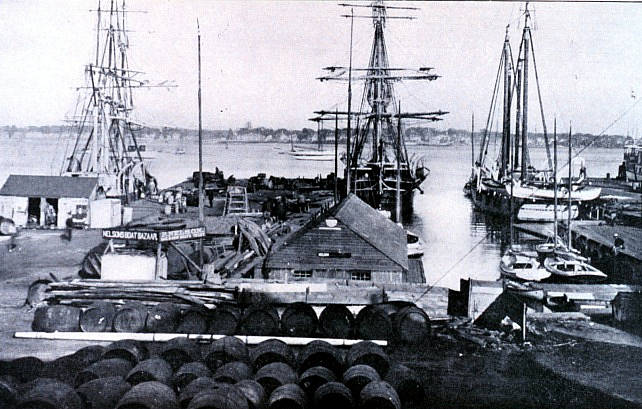 I've been smitten with Herman Melville's
Moby Dick
for so long that I cannot remember the last November that has not caused me to recall -and fret over- these lines from the first paragraph of the first chapter of the book that I'm pretty sure contains a big chunk of the narrative of my soul.
"Whenever I find myself growing grim about the mouth; whenever it is a damp, drizzly November in my soul; whenever I find myself involuntarily pausing before coffin warehouses, and bringing up the rear of every funeral I meet; and especially whenever my hypos get such an upper hand of me, that it requires a strong moral principle to prevent me from deliberately stepping into the street, and methodically knocking people's hats off--then, I account it high time to get to sea as soon as I can."

Why November drives me to hunker down and get restless and cranky over the condition of my soul is obvious -I was born in November, the weather is dour and the landscape goes mute as daylight becomes twilight. I've never run off and gone to sea in any way that was not metaphorical. But since my first reading of
Moby Dick
, whenever November comes around I imagine myself, like Ishmael, walking in damp boots towards New Bedford under a grey drizzling sky , a rucksack on my back, daydreaming of Cape Horn, harpoons, and doom.
Hmm, now that I think about it's probably a good thing that I identify so closely with Ishamel than the more obvious choice of Fleece, the Pequod's cook. True, like Fleece I live a good portion of my life below decks in the galley, and I'm sure I could fry up a whale steak quite as well as he. But Fleece went down with George Bush, I mean Captain Ahab, in the ship in the vortex produced by the enraged whale, while Ishmael survived.
Sorry if this post is a downer. I'll make it up to you in the next one with something bright and clever about the latest installment of some smacked-ass cooking show where the cooks battle it out like
Rock-em Sock-em Robots.
(No I won't.) In the meantime have a look at a few shots of the farm in November. The ham was made in October, but I added it in because it felt right.