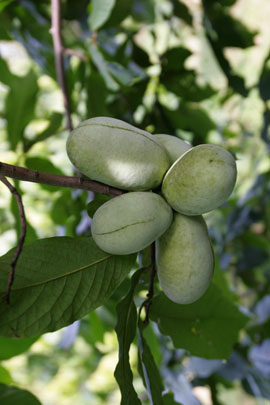 This pawpaw fruit (l) reminds me of durian
On the Side | Lost foods reclaimed | Philadelphia Inquirer | 09/27/2007
I'd almost forgotten that mustard oil is considered not fit for human consumption by the USDA. I bought some years ago to play with and had to scrape the warning label off the bottle so it wouldn't give me nightmares. i didn't serve it to anyone, of course. But from the sound of this Village Voice article I could have...
village voice > nyclife > Counter Culture: Our Man Indulges in Forbidden Oil, Bangladesh-Style by Robert Sietsema
Thanks to PETA, you can now have cage free eggs while you abuse yourself with a meal at Hardee's and Carl's Jr. (What's a Carl's Jr? ) If this keeps up we are going to end up with the most humane junk food in the world. I can't wait to read
Chef Boyardee Raviolios
Now with free range grass fed beef ears!


The Associated Press: Hardee's, Carl's Jr. and PETA Reach Deal